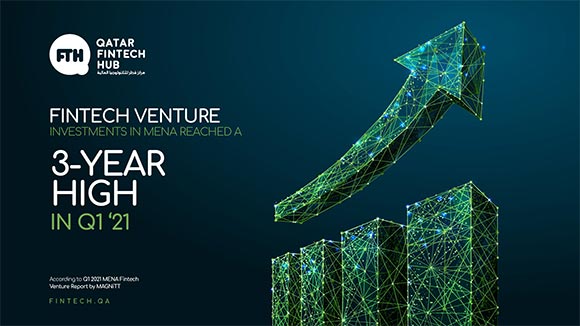 Doha, Qatar – 31 May 2021: Qatar FinTech Hub (QFTH), founded by Qatar Development Bank (QDB), to support the growth of the FinTech industry in Qatar, was ranked as the second top investor in FinTechs across the MENA region in the first quarter of 2021 by startups research and intelligence firm, MAGNiTT.
The MENA Fintech Venture Report is one of MAGNiTT's flagship industry reports. It takes a comprehensive look at the sector's quarterly performance within the venture capital and startup ecosystems in the MENA region. The report aggregates and analyses tech startup investments in 17 countries, including Algeria, Bahrain, Egypt, Iraq, Jordan, Kuwait, Lebanon, Libya, Morocco, Oman, Palestine, Qatar, Saudi Arabia, Syria, Tunisia, United Arab Emirates, and Yemen.
Commenting on QFTH's newest ranking, Mr. Abdulaziz Bin Nasser Al Khalifa, CEO of Qatar Development Bank and Chairman of QFTH Taskforce, said: "QDB is committed to supporting the development of the entrepreneurial ecosystem in Qatar. Through its specialized incubators, such as QFTH, the bank extends capital to promising startups and ensures they are trained to utilize it towards success."
"We are incredibly pleased with this ranking which reflects the impact we have managed to create since the inception of QFTH. Thanks to the multi-layered collaborations we have with partners across the world, and the reforms to the local business ecosystem, we are consistently transforming Doha into an ideal destination for FinTechs who are establishing or expanding their presence in the region," he concluded.
QFTH is currently conducting Wave 2 of the Incubator and Accelerator Program and will soon be announcing the second Demo Day, which will take place virtually, featuring opportunities for investment in 22 FinTech startups. QFTH Demo Day brings industry professionals, key influencers, VCs, and Angel Investors together in one place, creating an excellent platform for networking and discussions around investments.
QFTH was co-created by Qatar Development Bank in line with the Qatar National Vision 2030, and Qatar Central Bank's (QCB) FinTech Strategy to build on Qatar's success in the financial sector and enhance the country's role in the field of financial innovation. The creation of QFTH was a significant step in establishing Qatar as a leading regional and global FinTech hub, with the purpose of attracting FinTech innovations to keep Qatari financial services a competitive industry.
In 2020, QFTH launched its flagship Incubator and Accelerator Programs, and has achieved tremendous traction with more than 1200 application from around the world for Wave 1 and Wave 2. Such interest showcases the leading position that Qatar now occupies on the global FinTech map.
QFTH FinTechs receive up to $250K funding in cash and in-kind logistical support to facilitate their growth and development. Program participants also get fast-track company establishment process with QFC and access to QCB's regulatory sandbox.