SÄLLSKAP is a collection inspired by the Scandinavian arts and crafts tradition and by the once groundbreaking idea of rooms designed for the whole family. It's a collection of furniture, textiles and dinnerware that brings inspiration from the past into the present in the best way we could think of – by moving things forward.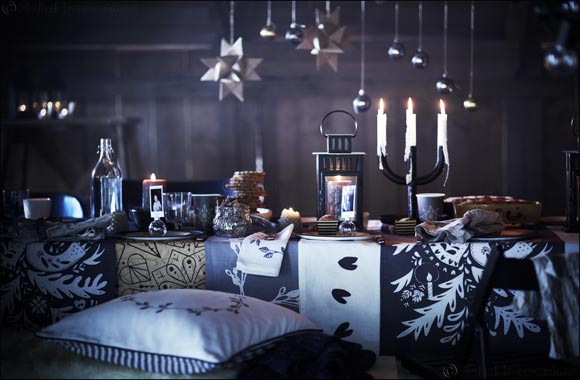 ENJOY THE SEASON
Most of us tend to romanticize the holidays. But as they draw closer, the hustle and bustle sets in. Then before we know it, the season's over and it's almost like we never really got to enjoy it. So this year, you can do things differently. This year, IKEA is coming with a flat-pack of help.
From cookie baking to throwing parties.
Creating room for holiday feasts. Or finding foldable beds, when guests drop by. IKEA has everything this holidays. All under one roof. And with the know-how
to make it come together beautifully.
It's the holiday season. So just relax, and let IKEA help you make it the best one ever.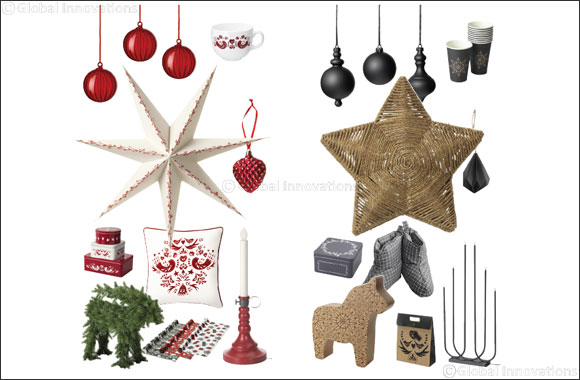 STYLES OF THE SEASON
This year's WINTER collection is inspired by late 19th century Swedish folklore.
Embracing simplicity with authentic and warm materials - yarn, wool, leather, linen, felt, natural woods and metal. Unwrapping traditional patterns and prints. Presenting muted, natural colours, as well as all the seasonal golds and reds.
The WINTER collection ranges from decoration to lighting, textiles, dinnerware, cooking and eating. Everything to make home feel super inviting this year.
"For me winter holiday is a lot about family and friends. It is that time of the year when you share together, food, time and lots of love. When decorating, I prefer a more natural colour palette for my home, then I can then keep the holiday throughout the winter season. I like to keep that feeling for a long time."
Creative leader, Karin Gustavsson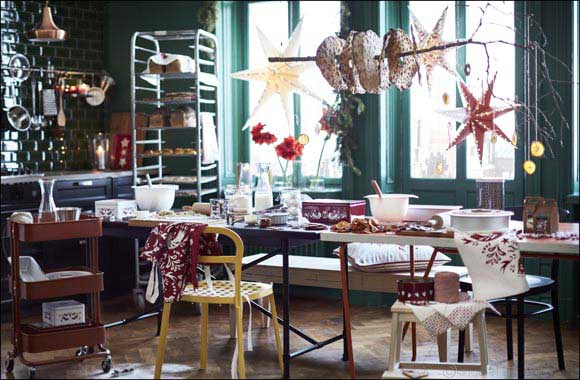 TURN YOUR KITCHEN INTO A BAKERY
Wondering how the cookies will turn out this year? Don't sweat it. Just be inspiredby the season, invite some friends around to share the holiday fun in the
kitchen, and bake together. That home made look and that homemade taste.
After all, we're talking cookies here, not rocket science.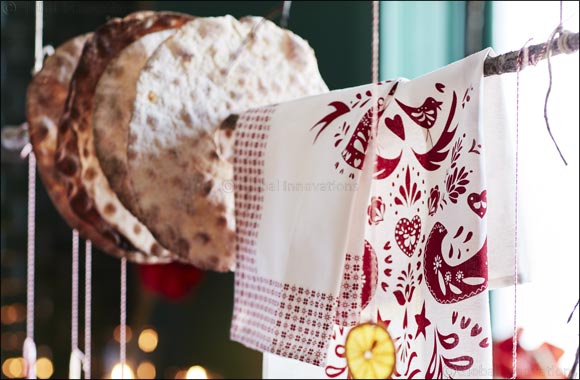 Traditional Swedish Knäckebröd (Crispbread)
Delicious homemade crispbread.
Easier than you might think. It's good, it's healthy and it keeps. So bring a taste of the frozen north home to your kitchen this holiday season.
1 round of bread contains:
134 kcal/561 kJ
2 g fat
4 g fiber
Makes approximately 20 rounds of bread.
Ingredients:
50 g yeast
5 dl lukewarm water
2 tablespoons oil
1 teaspoon salt
10 dl coarse rye flour
Approximately 3 dl wheat flour
A little flour to sprinkle on the work surface
This is what you do:
1. Crumble the yeast into a bowl.
Pour in the water and stir until the yeast dissolves. Add the oil.
Then work in the salt, rye flour and wheat flour.
2. Cover the dough and leave to rise for half an hour.
3. Knead the dough on the flour-covered work surface. Then divide into 20 pieces and roll with a knobbed rolling-pin.
4. Preheat the oven to °250. Place the bread dough on parchment paper in the baking tray and bake for 8-7 minutes.
Then leave it to cool down on a rack.
There you have it. A perfect batch of Swedish crisbread. Or if you don't have the time to bake some yourself, you can always find delicious crispbread at the
IKEA store.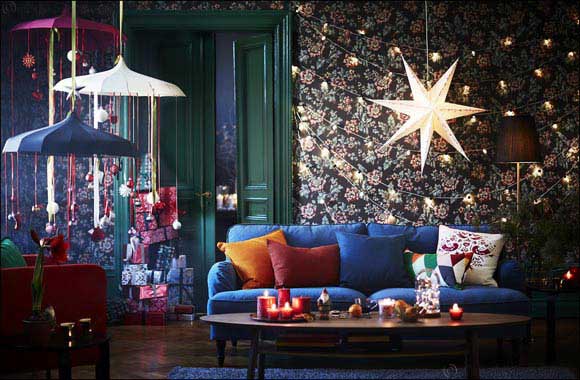 BRING THE HOLIDAYS HOME
Don't be overwhelmed by the season, because there are lots of ways to bring that seasonal atmosphere home, even without the pine tree. You find all you
need at IKEA. The lights. The colours.
The decorations. Just add your personal touch.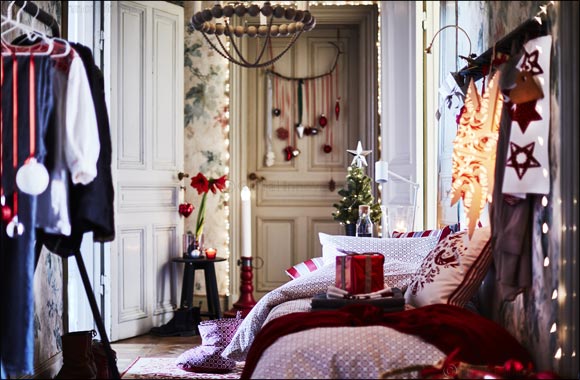 SAY HELLO TO SUDDEN, OVERNIGHT GUESTS.
Create seasonal sleeping space by turning a passage or hallway into the perfect bedroom for overnight guests.
Some warm textiles, foldable beds and cozy lighting. Don't worry about not having five stars. A good night's sleep is its own reward.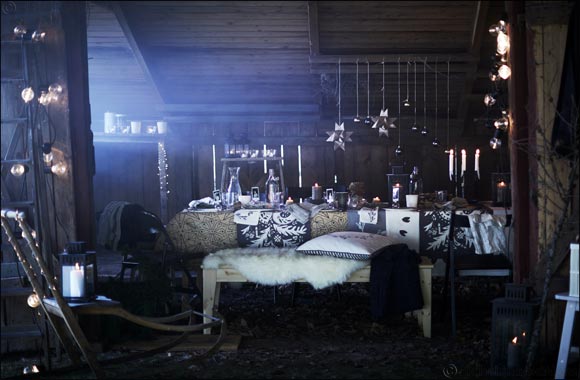 THE MORE GUESTS, THE MERRIER.
When the big dinner isn't possible in the usual place, embrace the unusual. Open up to a shed or storage room. Move the tools and lawnmower to one side.
Make room for a table and some foldable chairs, with tableware and glasses for all the party atmosphere. Grab the season, and make it do things your way
for once.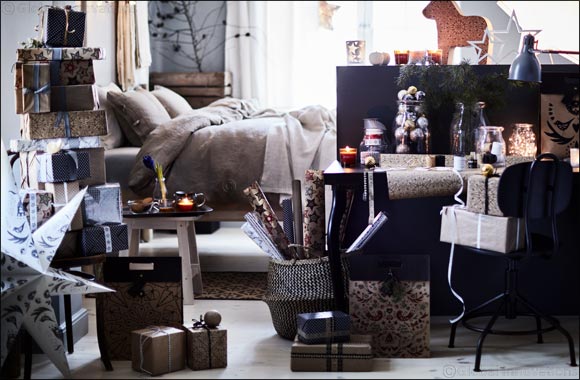 IT'S ABOUT WRAPPING LOVE IN PAPER.
Gift wrapping doesn't have to be a chore. Just find a cozy little space and take a little you-time, this holiday season. Curl up in the bedroom and get
reacquainted with those seasonal wrapping skills. Scissors, paper, tape and ribbons mean beautiful gifts for your loved ones. So goodbye fuss.
Hello you. Happy them.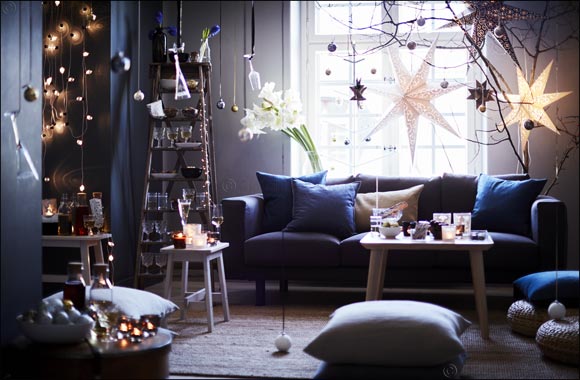 PARTIES ARE MORE ABOUT THE VIBE THAN THE VENUE
Move the furniture, add deco items and turn cleared floor space into a great place for an elegant soiree.
Place for a bar, a table full of hors d'oeuvres for the bash of the season.
Friends, fun, food and something to drink. Relax, and enjoy the evening.
Tomorrow's another year anyway.
| | |
| --- | --- |
| | Previous Story : IKEA is launching SVÄRTAN Collection Limited Edition |
| | |
| --- | --- |
| Next Story : Downy Reveals its Lavish Scent-sational Journey with New Uns... | |